Introducing Stellar Mobile
Application Development Services
Looking for a reliable mobile app development partner who can dive deep into your business ecosystem? Who can help you in exploring the market and understanding your needs, requirements, and capabilities? Who can create a truly custom strategy and harness the full potential of mobile technology for your company? That where we come in!
Possessing a decade-long experience in custom mobile application development spanning a wide range of industries from retail to healthcare and EdTech, we create seamless mobile applications on various platforms that are tailored to your goals and expectations.
Mobile App
Development Services
Creating High Performing, Digitally Transformative, and Feature-Packed Mobile Apps Your Users Will Love.
Our Mobile App Development Services
Mobile Enablement
We create result driven application that adds exceptional value to your business. With our mobile application development services, we help our customers to meet demanding needs and accelerate overall productivity by focusing on frictionless end-user experience.
Design & Development
Deployment
Re-engineering & Migration
Cross Platform Mobile App Development
With our extensive experience in cross-platform app development, we help businesses to reach a much wider audience and meet user demands through high-performance mobile apps that work well across various devices and platforms.
Xamarin
Flutter
React Native
IOS Mobile App Development
We build scalable, secure, and high-performance iOS apps for the complete apple product range. We adhere to strict apple's human interface guidelines and best practices to achieve to make your idea reach out the world of iOS users.
Android Mobile App Development
With a seasoned team of android developers, we combine our industry experience with mobile technology expertise to create seamless experience with clear layouts and journey across various screens to accommodate the need of millions of android users around the world
Mobile Web Apps Development
To give your users the same look and feel of mobile apps, we create lightweight and feature-rich mobile web apps that go above and beyond to provide immersive users' experience, security, and high performance.
Single Page Apps (SPAs)

Progressive Web Apps (PWAs)
Looking To Get a Custom Mobile Application That Delivers Business Success or Looking for Help to Decide What's Next?
Our Mobile App Development Process Entails Following Activities
Identifying user needs and pain points
Customer journey mapping
Creating dynamic wireframes and Design prototypes
Developing flawless UIs that works Consistently across different platforms
Apple Human Interface and Google Material Design Compliant
Integrating with existing CMS, CRM, and ERP systems
Enable business units and departments to interact efficiently
Data collection from connected devices and wearables
Secure payment integrations Google Material Design Compliant
Lightweight mobile frontend that enables long battery duration
Rigorous performance testing for smooth user experience
Enterprise-grade logs and crash reports
Scalable, high-load architectures to handle unlimited concurrent users
Application two-step verification and data encryption
Code reviewing and static analysis
Penetration testing and vulnerability scanning
GDPR regulations compliant
Full mobile testing strategy
Insightful testing reports
Mature test automation processes
Meticulous integration, performance, security, and usability testing
Looking To Get a Custom Mobile Application That Delivers Business Success or Looking for Help to Decide What's Next?
Mobile Application We Are Proud Of
We Created Mobile App platform for USA's
Leading Fitness Providers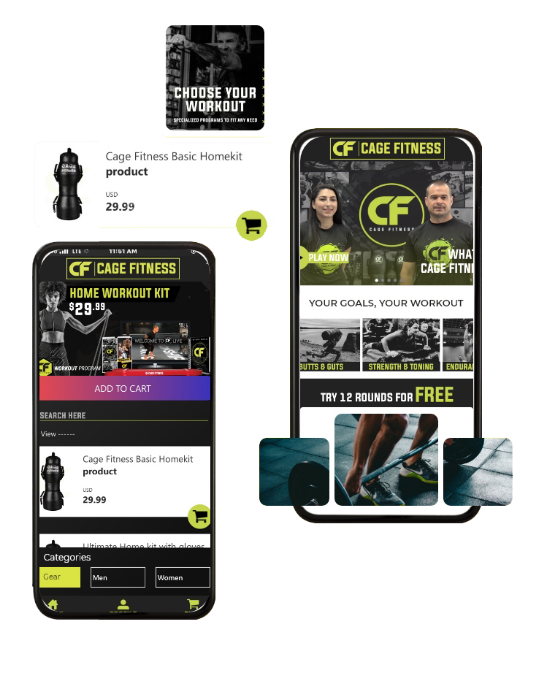 Our value-driven approach is designed to help you hit the market with an impeccable mobile app that outperform competition. At Golpik, we create applications that stay for long-term in the market
Ready To Get a Mobile App for Your Business?
Schedule a Free 30-minutes, virtual operations evaluation with our mobile app experts today!