It is of great concern as to how much SaaS product costs in building in 2021. This factor is of more relevance when a firm wants to invest in a SaaS product. The latest trends need to be considered when answering this question in detail. Many factors are involved in finally building a SaaS product.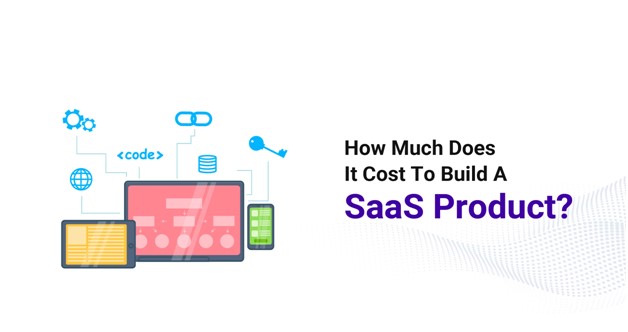 The major steps include the required functionality, API integration, timeline, and overall project scope. There is also a trend of changing the cost of a completed SaaS app. It is dependent on the specific SaaS development service providers, making the SaaS application factors more interesting.
The firms need to know in detail about the cost of building a SaaS product in 2021. Many software-as-a-service trends come in between when considering this process. The firms primarily need to understand their customers' ongoing demands and latest trends while meeting the product line faster.
Latest SaaS Development Trends:
Rising of SaaS Tools for Remote-based Collaboration:
The pandemic of COVID-19 at the start of 2020 has led several firms to shift to remote work. The resulting outcome was that the resources seemed highly preferable for different online collaboration tools. The major famous tools included the following:
Video conferencing. Google Hangout, Zoom, and Skype.

Online Chatting. Chanty and Slack.

Time Tracking Tools. Everhour and Harvest

File Sharing and Cloud Storage Applications. Google Drive and Dropbox.

Collaboration Platforms and Project Management Tools. Arsana, Jira, and Trello.
Vertical SaaS:
Vertical SaaS products are developed for satisfying the firm requirements relating to a specific industrial sector. Concerning this fact, there is a difference in horizontal SaaS apps, such as aiming at serving different domain sources where possible.
The vertical software-as-a-service market and its big players are as follows:
Property Insurance (Guidewire)

Pharmaceutical Management (Veeva)

Manufacturing (Infor)
Switching from SaaS to PaaS:
In today's era, there is a tough level of competitors in the SaaS markets. As a result, firms consider innovative modes of retaining customers. An example includes scaling a product while moving it from SaaS to PaaS. Consequently, firms get agile, fast, and scalable SaaS applications to have competed in the growing markets.
The examples of SaaS market leaders are Salesforce and Box. They have a successful adoption of the latest trends in the market. They migrated from SaaS to PaaS, enabling them to increases the demanding source of every of their product.
Mobile-first Approach:
There is a continuous growth in the rate of mobile users. By 2023, there is an expectation of a statistical record to be reached at 7.33 billion. The below graph better determine the fact of such calculation: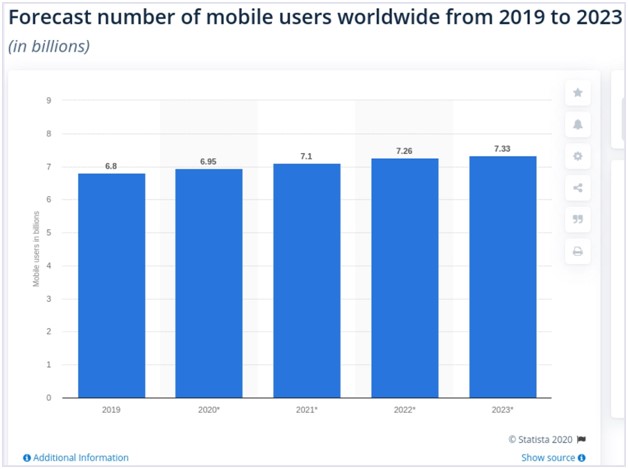 The above huge figure drives firms to remain one step forward to the SaaS apps through the mobile-used device. Many online sources run different high-tech mobile versions to facilitate their customers and to meet the increasing trend of the market. These sources include Trello, Jira, Skype, Dropbox, and many others.
Growing Popularity of MicroSaaS:
Being termed as a small tool, MicroSaaS has adds-on with different extensions. It is developed to improve the functions of current applications. The fact about the popularity of the MicroSaaS app is that it allows firms in obtaining a competitive benefit while seeking an unused niche in the saturating markets.
The MicroSaaS has been adopted by different well-known firms as follows:
Grammarly (editing tool)

Social Sprout (social media-driven software)
Main Challenges of SaaS App Development:
There is a difficult process in developing SaaS applications. The process involves the confrontation of specific disadvantages and barriers. These obstacles could result in increasing the overall cost of SaaS development. Thus, everything needs to be well-known when addressing these challenges.
The major general mistakes should be avoided during app development through the adoption of strategic ways and in an easy manner. There are different tips available when processing the SaaS development, such as keeping the costs of building SaaS apps upfront and working.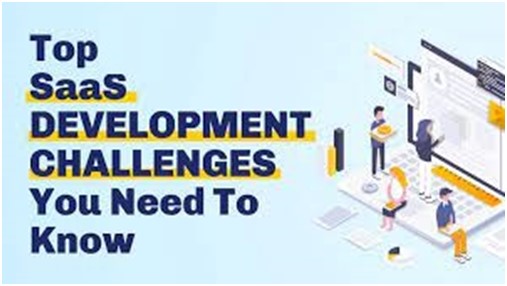 Poor Execution:
Upon failure of the SaaS projects, the firm entrepreneurs mostly start blaming the SaaS ideas. Though the idea could be of great brilliance, its systemic working might have some glitches. There can be a skyrocketing cost of building a SaaS product if the poor execution becomes the reason for overall failure.
A properly applicable SWOT analysis is initially recommended to start the execution of the overall business idea. More importantly, business owners need to understand and identify the SaaS project SWOT analysis considering the strengths, weaknesses, opportunities, and threats.
The above strategic idea and process could finally lead the business owners to the right path of success. It can also determine the factors that usually cause facilitation or impediment during the execution process.
Lack of Trust:
The overall SaaS project is better determined through the trust of work and concept. If the customers have no trust in your SaaS product, then there is a possibility of less usage about it. This fact is specifically right for SaaS apps where a huge level of sensitive information is stored or is on record. Thus, the top priority should be given to the SaaS application security.
The SaaS product should initially provide role-based access and two-factor authentication. This factor can help in the protection of user data much securely. Moreover, there should be a process of introducing a strict data deletion policy. It can determine how the storing and deletion of users' sensitive data is processed and retrieved.
Afterward, the SaaS product development process should start facilitating their customers with the provision of field-level encryption. This feature can allow customers to select the fields that have strong encryption. It is mostly applied in terms of social security numbers and credit card numbers.
Small Audience:
In the previous sections, we have determined great emphasis on the particular industrial sector like the famous SaaS trends. However, there could be a huge error when selecting a niche that has less concern. Thus, firms might be at risk and can have not to sound customers.
In the future, the small audience could have a low impact on your overall SaaS product and its integrated idea and process. The main factor is that firms are required to ensure updating and optimizing the SaaS product continuously while staying ahead of their competitors. However, it is a very expensive process, but it could give firms a large audience, enabling them to avoid any kind of unpredictable loss.
What is Included in the Cost of Building a SaaS Product?
The main factors of SaaS development need to be understood before calculating the cost of building a SaaS product.
Scope of Your SaaS Project:
The very first step is to determine the type of SaaS product being building. It needs to be decided whether a platform will be created or a tool. It is important because such types of SaaS systems come with different scopes. As a result, there will be different costs of building a SaaS product.
It is generally obvious that there is a restricted scope in tools. These can ensure the fixation of one or two issues. They have an expectancy of performing some kind of functions to a great extent.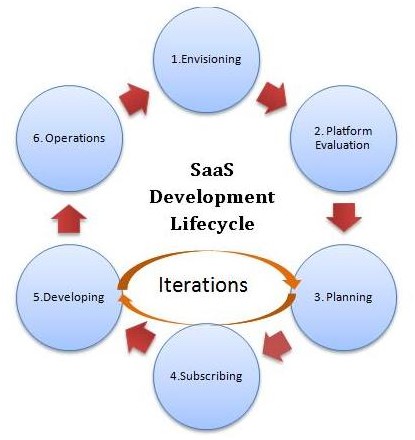 In general, Buffer is the best classical example of a SaaS tool. It is primarily used to manage social media accounts. However, there are numerous tools in platforms. Due to such a framework, they have great expansion in functionality. As such, every user gets access to a specific feature that is not available in the software-as-a-service instrument.
Facebook is a leading and most recognized platform that emerges in our minds in today's world. When building the first SaaS product, if the cloud business owners are new, then it is good to start keeping it in a simpler form.
The first step is to start with tools. Afterward, try scaling it with the addition of newly introduced features. This step does not involve huge expenses, making the SaaS product development easier and cost-effective.
The Implemented Functionality:
It is the complexity of every project that determines the overall cost of SaaS development. The business will need to pay higher prices if they add more features to the new product. It is a wise idea to select only necessary functions to avoid any added cost in it.
This process should determine which functions are desirable and which functions are necessary. It helps in ensuring that the payment is made for only necessary features while saving huge money from overpays.
It is the very first question as to which feature the company's SaaS application should create? Generally, this question is better solved with the selection of key functions in the first step. However, the below features are commonly used for all kinds of SaaS product:
Role-based Access: It allows the admin in setting different permissions in the group. An example includes restricting the levels of accessibility of sensitive data to few employees.
The right example could be ascertained from "TalktoTheManager". It is a customer feedback solution that offers different group members accessibility to different options based on their roles.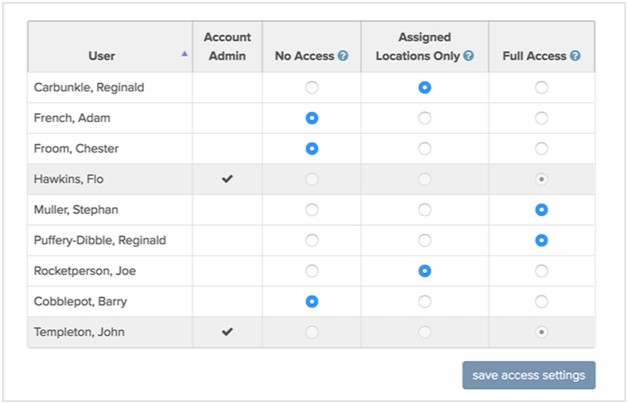 Analytical Dashboard: When firms get access to analytics, their group members can view how business metrics need to be enhanced. As such, they get the capability of offering an enhanced customer service.
Single Sign-on: This feature enables every customer to work without logging in to each application. Around multiple services are accessed through the use of a single credential.
Audit Trail: This option allows businesses the capability of tracking every single activity of the account users. Many suspicious activities are prevented through this specific feature.
Enhanced Security Features: This feature saves businesses and users from the theft of their secure information and sensitive data. It also saves them from the threats of cybersecurity vulnerabilities.
Choosing a Development Team: Software Consultancy vs. Freelancers:
Every SaaS project requires the hiring of the best specialists. There exist two options if there is no in-house development group available. The business can have a partnership with a SaaS app development firm or simply hire a team of freelancers.
Both the above options can impact the cost of building a SaaS product. They have a variant peculiarity, meaning that they both have different options available for working that need to be considered. The software company can cost you higher as compared to hiring freelancers. There are lower rates for self-employed professionals, making it a lower price gap.
However, there is a risk of gaining a low-grade product from freelancers because they do not focus much on the quality of the service. On the contrary, partnering with a software firm can give you a top-quality product and service whilst, however, involving the higher cost of service.
In general, partnering with a software company is worth with cost and effort. They provide fully-cycled development services as follows:
Conducting discovery sessions

UX/UI prototyping and design

Working, scaling, and building an MVP

SaaS product development

Quality Assurance

Support and Maintenance
Further, software companies work while maintaining their overall reputation. The quality of service is guaranteed and highly cherished by a software company. It is pertinent to note that the right cost of building a SaaS product from a software company depends on the company's experience and location.
For a better explanation, different geographic regions around the world have different average web developer hourly rates. The regions could include Eastern Europe, Western Europe, and the U.S.
API Integration:
Similar to other products and apps, every SaaS product gets backend functionalities. Its implementation is of great concern, meaning that it could be done through the API integration or via from scratch.
While considering the factor of cost of building a SaaS product, there are cheaper options available. However, it could be much expensive to develop a SaaS app from scratch.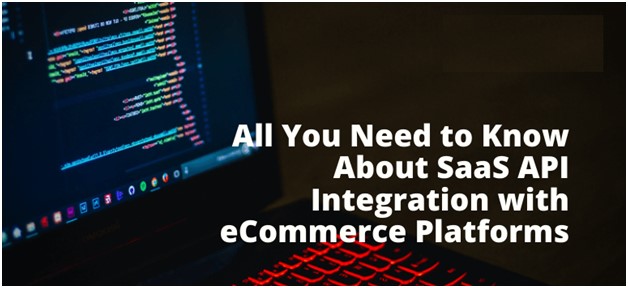 Nevertheless, there could be achieved a great and fast scaling of the business through the API integration. It also saves from skipping several development steps that are unnecessarily followed. In today's much competitive markets, the budgeting outcome is more important than considering some options or following some steps. The process of saving the budget can reinvent the architecture of current SaaS products.
Overhead Costs:
It is a big error to consider that the entire expenses could be completed for launching the SaaS product. Different overhead costs come in between during the process. The very first step is to find out the way of attracting users to the SaaS app. It could involve great expenses on marketing and promotional strategies.
Afterward, there exist legal costs. It includes local legislation and federal government compliance costs. It becomes essential when a SaaS product is built for finance, healthcare, or related industry.
Moreover, the below expenses come when considering the total cost of ownership:
Licensing

Subscription

Updates

Training

Technical Support
How a Firm Helps in Building a SaaS Product?
SaaS product development is a leading area of the firm. For years, many firms have involvement in developing secure, scalable, and fast-loading cloud solutions. The in-house experts enable the creation of SaaS products. These could be related to different domains, including insurance, automotive, travel, and finance.
The custom SaaS solution requires a professional team who builds a SaaS product from the start. They consider every particular customer needs and corporate demands. They build a SaaS product in a way that works with other tools and programs while collaborating with other organizations. The expert and professional team ensure that a SaaS product is delivered with easy integration and has direct support with third-party services.
Conclusion:
Thus, it is of great concern to consider the cost of building a SaaS product in 2021. There is no particular answer to such concern. The cost involves many expenses due to the SaaS being a unique product, app, and project.
Several factors of SaaS development are mainly considered in this blog, making it completely noteworthy and important. These entire considerations impact the total costs of building a SaaS product. However, it is now easy for you to calculate the right cost of building a SaaS product from your end.
Regardless of the above factors, every company should seek a reliable, scalable, and secure cloud solution to develop a more profitable SaaS product. The firm can grow faster from the right securely adopted expert professionals who will build a SaaS product more carefully. The project can also become successful from such concern while avoiding the chance of losses. It could also finally avoid the consequence of a failure, as may exist for any reason therein.