Are you thinking of setting your online store up but you are most likely to feel worried and confused?
Aren't You?
Well, you're not the exception because every online retailer now was similarly perplexed once like you.Believe it or not; to create an ecommerce website with WordPress in just 5 minutes is new normal.
Yes. It is easier than ever before.
Wondering how?
Follow this blog post til the end and you'll know how to build your ecommerce store with WordPress in minutes.
Be ready and make your idea-on-paper go digital and take your online store from nowhere to everywhere with ease.
Let's get started!
WooCommerce – A Saving Grace for Ecommerce Store Built with WordPress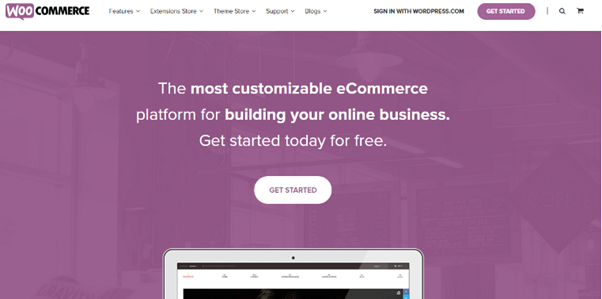 Most importantly, it's a WooCommerce plugin which turns WordPress website into a full functioning Ecommerce. And, the best thing is – It is Free!!
WooCommerce is an open-source and easily customizable Ecommerce platform for eShop owners. It frees an online retailer from confinements of traditional Ecommerce and take online business to the next-level.
Following are the benefits of using WooCommerce for creating your ecommerce website with WordPress under five minutes:
1- Lots of Themes
2- Unrestricted Customization
3- Product Filtering and Sorting
4- Single-Click Refunds
5- Email Templates
6- Ease of Managing Order without needing an Admin
"Interestingly, WordPress was considered to be good for blogs due to its origins in blogging. But it is really surprising to realize how dominant WordPress has become in other areas – notably, Ecommerce.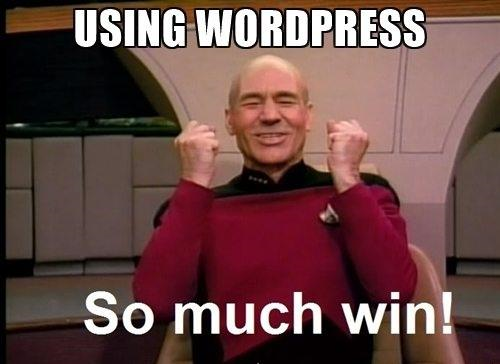 Step One:
Get Domain And Hosting Service
Always choose hosting in relevance to the type of website you want to create. As you're going to start your new online shop, you should focus on getting secure and speedy host.
Never compromise on reliability and security of host.
Since, there is a platheros of hosting services and I've mentioned only best ones here:
1- Bluehost
2- HostGator
3- Hostinger
4- DreamHost
5- InMotion
So, whatever, your final pick is – make sure your selected hosting provider is ticking all these boxes:
A – Security. Since, an ecommerce website deals with the large number of transactions on a daily basis, it must be secure and safe.
B- Make sure accessibility and uptime are maximum for your online store.
C- Quick Page Loading – No one is going to wait for you and Google will dislike your laziness.
D- Regular Backups of your ecommerce are lifesavers in time of life-taking crisis.
I will suggest you BlueHost as a hosting service.
Reasons, why?
Because It has everything to meet your requirements: Security, Regular Backups, Maximum Uptime and so much more.
Following are pocket-friendly pricing plans: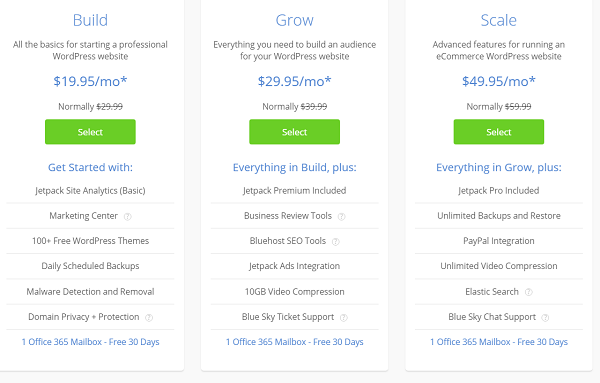 Now comes a Domain Name
A domain name for your website is like your permanent address. It gives your website a unique identity. Plus, it will make your ecommerce website with WordPress stand out.
Since, a domain that represents your business identity. It is important for you to know certain things so that you could come up with a unique, easily understandable and catchy domain name for your ecommerce website.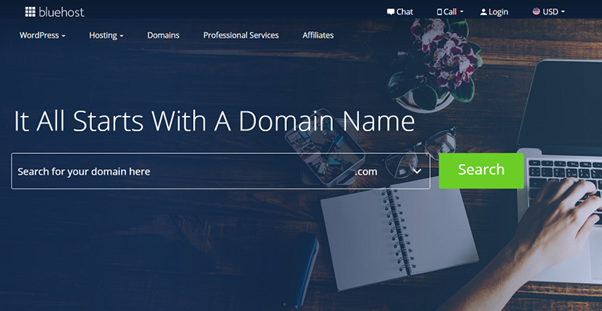 While you're going for BlueHost hosting service, they will let you select a domain name. Type in the domain name you like most. But, check it carefully either it is available for registration or not.

Therefore, keep the following factors in mind and you will get the best domain name:
1- Make sure that the domain name is short and easy-to-remember.
2- Never use difficult spellings.
3- Use 'Hyphen' in case you want to differentiate the words in your domain name.
4- Get a domain name that could represent your brand.
Related Stuff: Watch this video below If you want to learn how to get a domain name for better SEO and Branding.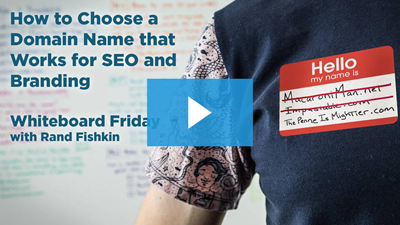 Step Two:
Choose the eCommerce WordPress Theme
Alright, we now have a domain name, hosting service and WordPress for successful eCommerce website building.

All of these WordPress themes are customizable and pre-designed. However, they come with distinct features that could be used as per your requirements to create your website.
Following are the best WooCommerce-Friendly WordPress themes in 2019:
1- Flatsome
2- Porto
3- XStore
4- Konte
5- Cerato
6- Lebe
7- StoreBox.
For this blogpost, I'm going to use StoreBox (A theme) to build an ecommerce website with WordPress under 5 minutes. It is really good and high-quality Ecommerce WordPress template that can be used for both selling physical products and downloadable products. It runs well on the WooCommerce Ecommerce plugin.
StoreBox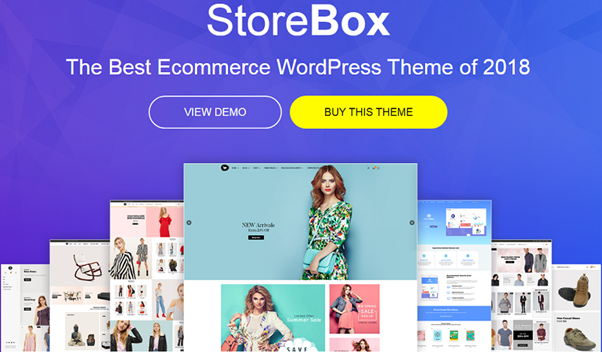 Download theme and start installing it. Once it's done and start running – You can install the WooCommerce plugin for advanced eCommerce features in your online store.
Click one more time to install the sample data and your website will be ready to use Ecommerce website.
https://templatic.com/wp-themes/uploads/2017/10/Installation-wizard.gif

You just need to replace the sample content with original products, pages and set up transaction processing, order management and shipping options.
Step Three:
Your Online Shopping Website is READY now !
Once you've got a WordPress theme, the very next thing you must do is to customize it as per your demand. If it's difficult for you; you can try your creativity on widgets and options already available with your theme.
And, it is the real part where you will enjoy Ecommerce website development.
Step Four:
Add Products to Sell on your eStore
It's time for displaying your products to online shoppers. Just log in to your dashboard and add products easily to your WooCommerce-powered Ecommerce website.
Following are the two easy steps which help you to add products to your online shop. Well, before that, you will have to create some categories.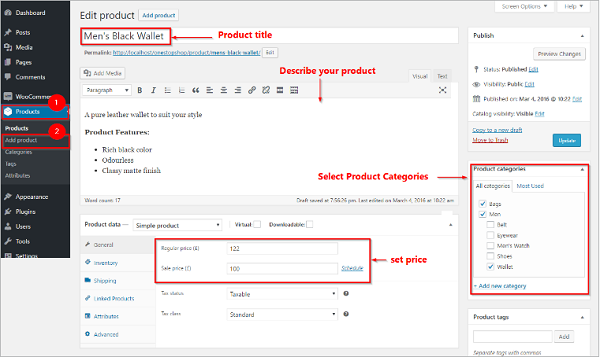 Always Create Ecommerce Product Categories Relevant to Product Types
Classification of products on Ecommerce website is really important because,
It organizes your website content.
It eases up searching for the visitors.
For example, if you're selling clothes online; make different categories of Men wear, Women wear, and Kids Wear. Likewise, under each of these categories, you should develop other sub-categories such as Formals, Casual Wear, and Summer Dresses, etc.
Have a look at the image below and you will know how to benefit from categories and sub-categories: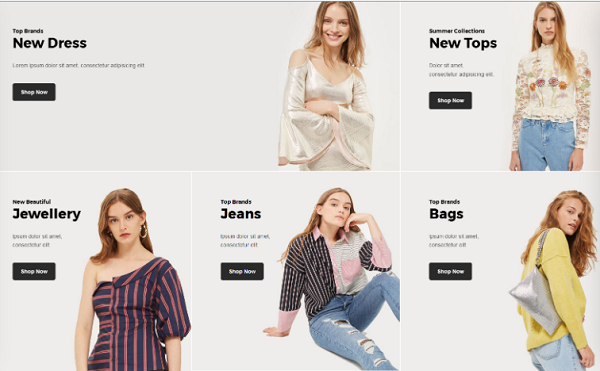 Step Five:
Product Title, Images, and Descriptions

With WooCommerce options, adding product title is as easy as cakewalk. Rest assured – It won't take you more than 5 minutes to add product to your WordPress website. Well, an entire process is discussed below:
1.Product Title
People's attention span is very limited. So, it's your product title that can persuade them. So, provide best title that could communicate to your potential buyers about product.

Below is an example of insightful product title: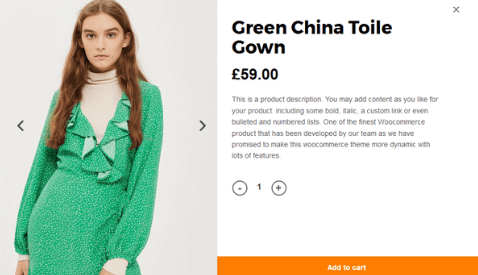 Good titles not only help SEO but also facilitates visitors to find your product easily and quickly.
2.Adding the Product Images
An image is more effective than 1000 words. An image itself says a lot about the product. With WooCommerce and WordPress, an ecommerce website owner can add single to multiple images of a product with ease.
Keep the following things in mind when it comes to images for your online shop:
Try to use the exact image of the product
Avoid using misleading images on your product pages
Where possible – use multiple images of products
Always use high-resolution and well- optimized images on your website for quality results.
3-Product Description
Product description is a short introduction. It tells online shoppers about your product. It's make or break situation for you. So, find a few but genuine words which could communicate your product's core message easily.
A well-thought product description is synonymous to salesman inside the physical store. Therefore, use this section to deliver important qualities and characteristics of your product.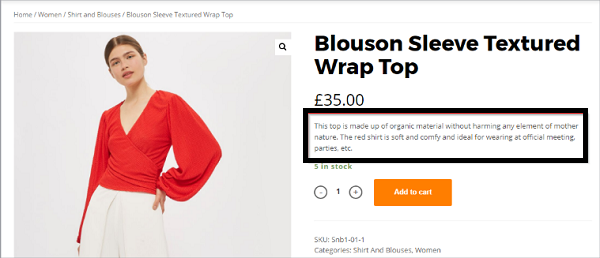 Tips to make your product description user and search-engine friendly:
1- Use 'keyword' wisely.
2- Write with plain English, don't overuse technical jargons.
3- Keep product description limited to 75 – 100 words.
Step Six:
Receiving Payments for your Products
Ecommerce websites involve a large number of transaction processing. Against all goods that your users have purchased, you will want to accept payments against those sales.
In order to manage the payment options for your WordPress online store, you should go to the checkout settings page.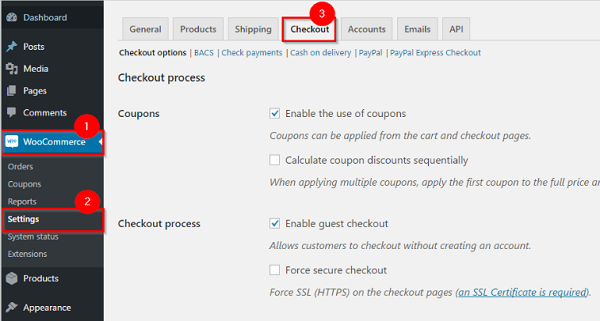 Good news is: WooCommerce lets you integrate your desired payment processor to accept online payments through your Ecommerce website.
Step Seven:
Inventory Management
From superstore with physical products to an Ecommerce store, inventory management is vital for success.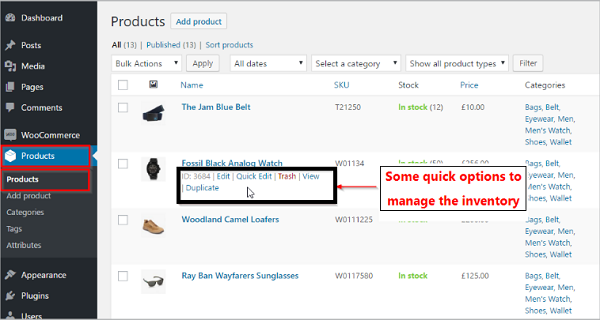 Thankfully – WooCommerce is equipped with all the features to help you manage the inventory very easily.
Likewise, you can manage inventory, change categories, manage tax classes and prices with quick edit options.
Step Eight:
Set Prices, Taxes and Discount

With WooCommerce, it's easy to define the tax classes for your products. Basically, tax classes are tax rules applied differently on different product groups and buyer locations likewise.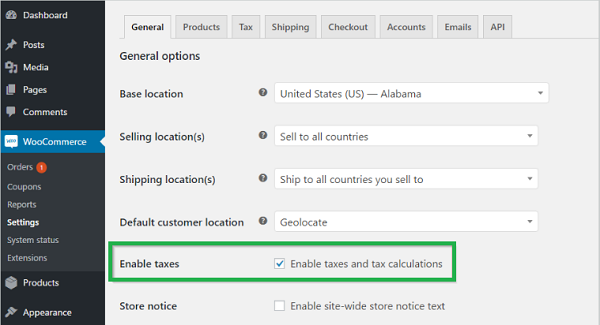 When you enable taxes, you're allowed to control all aspects of how you want to charge tax. Just create tax classes as per your requirements. The tax will be calculated on each taxable product on checkout.
All-in-all, you can even define discounted price for each product. You just need to enter discount commencement and end date. It says that – a user will buy the product at discounted rates for that specific time.
Step Nine:
Manage Orders and Shipping After Sales
When an online shopper orders something, the AI-powered WooCommerce will reduce inventory, accept payment and will display the order status. On the other hand, a customer can also view his order's status from dashboard.
Each new order will show unique and new ID along with other details and order status.
Step Ten:
Manage Shipping and Fulfillment of your Ecommerce Products

For the fast delivery of your physical products sold through your website,you will have to ensure safety and timely delivery. Therefore, you should know the estimated time of delivery for a product. The professional practice is to ensure that your product is reaching the buyers quickly after the order.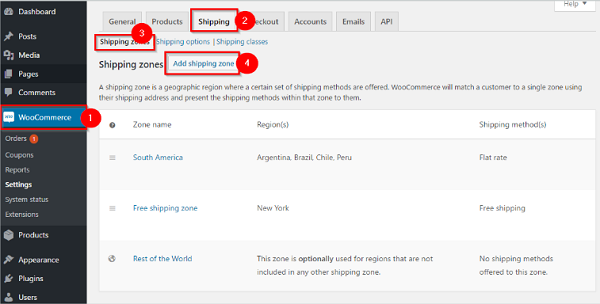 Well, it depends totally on you that if you want to impose shipping charges or not. If the shipping charge is to be accepted, it will be calculated in the customer's checkout process.
In other case, you will have to hire Ecommerce logistics companies. They take responsibility to collect products from warehouse and deliver it to the customer's location.
Final Words – How To Create an Ecommerce with WordPress Under 5 Minutes
Finally,
You've made it.
In this post, we discussed comprehensively in step-by-step formation about how to create an ecommerce website with WordPress under 5 minutes.
Here, you came to know about which hosting service to choose, how to get domain names, and how to install themes and so much more.
Long story short, with the WordPress as CMS and Ecommerce platforms, making an Ecommerce website has become easier. Important Note: you need NOT to become an expert, genius, a gifted engineer to get things done. Even if your programming skills are zero, still you can create, maintain your estore with ease. Plus, WooCommerce and theme documentation can help you in setting up website – timely, effectively and easily.
All you need to do is follow these steps wisely. Apply methods and you'll start running your online Store like an 'Expert.'