Cloud cost optimization is the processing way to minimize the entire cloud spends through the identification of right-size computing services. It also includes identifying the reserved capacity for higher discounts, eliminated wastage, and mismanaged resources.

Cloud computing is changing in different ways that help in building and deploying renowned applications. Nowadays, cloud computing models are proliferated and changed with different forms, making it typical for technological leaders to adopt them. An informed decision is initiated by technology leaders for every cloud-based service.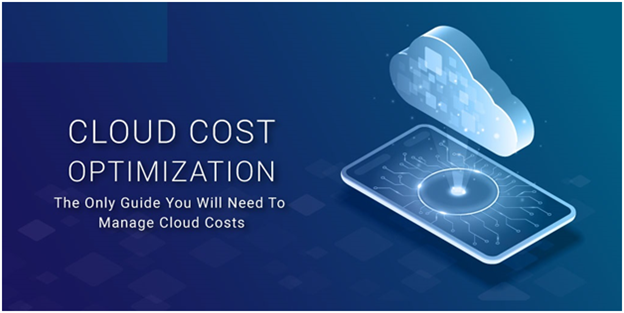 The best resulting outcome is achieved through the payment and platform models of cloud services. Businesses are now adapting to the cloud journey, making a framework of different cloud cost-management techniques. Such cloud instances lead to uncontrolled proliferation, driving providers and services to generate a higher cloud cost. It necessitates organizations to mitigate few general challenges that occur during the cloud cost optimization process.
Key Challenges of Cloud Cost Optimization:
The cloud cost optimization processes involve different requirements, making the product-based lifecycle process run through different demands. It may need the integration of technological innovation together with IT services. Many challenges occur during the process of cloud cost optimization.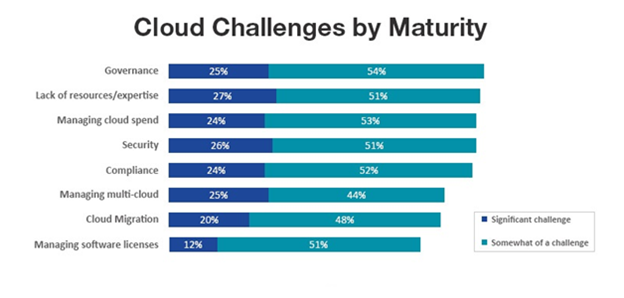 Businesses require many years of experience while functioning through different cloud projects. The below are few key challenges every business experience when achieving better cloud cost optimization:
All things are metered while every business runs on cloud service and evaluates cloud spend.
Less visibility occurs that results in different networking performance and application problems. It mainly includes the inability of delivering a service agreement. It could affect direct cost implication.
There arise difficult tasks of keeping the tracking of cost wastage owing to the idle asset, non-usage, or over-configuration.
The management of cloud resources and the allocation of improper provisioning make the cloud providers and their clients in a threatening situation. Every organization needs to anticipate how different resources may be used in specific situations.
The log files and reports remain as outdated data, making it accumulated without any purpose.
Another difficult task is budget forecasting. It needs a proper setup of processes and workflows. It further requires the right data to be used and the best expertise to be applied.
Imperfect architecture designs result in apps having poor design where the cloud platform is reserved for future work. Thus, there is a possibility of failing in delivering of right values of the cloud platform.
Misaligned approaches between the department and team seem to have a distracting problem, making it breaking the entire cloud cost optimization effort.
After solving the above challenges, every organization then needs to gain the right size and efficiently optimized cloud solutions for onward purpose.
The Best Practices of Cloud Cost Optimization Techniques:
Concerning the matter of cloud computing, there is a proper need to carefully and efficiently using the approach for direct analysis and continuous monitoring. It assures in a right optimal process, leading to achieving proper cloud resources.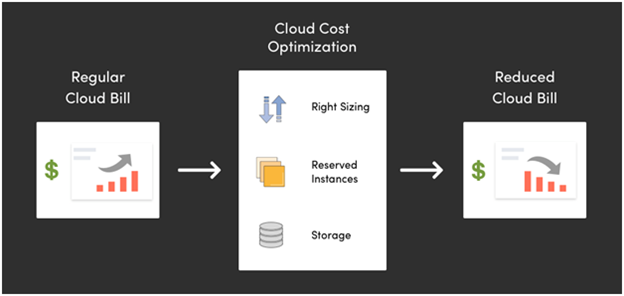 The below are few demanding effective ways of optimizing spend on cloud services. These ways are also the best practices to manage infrastructure-based efficiency:
The cloud cost optimization strategies are generally initiated with the identification of unattached and unused resources. These resources are later removed when optimizing the cost through automation. It directly supports optimizing the overall cloud cost efficiency.
The idle resources are consolidated, addressed, and identified for a better solution. The process involves right-sizing the computing services that allow for analyzing and modifying for the much effective size attainment.
An enterprise committing to the cloud for the long-term needs to ensure investment in different forms. These include Azure Reserved VM Instances (RIs) and AWS Reserved Instances (RIs). Success is highly achieved when the finance team, security, DevOps, and IT collaborate. It may include managing the storage types of resources, upfront payment, Reserved Instances (RIs), and different cost variables.
Taking benefit of Spot Instances like this helps save more resources through Azure spend and AWS spend.
The cloud cost optimization-related essential mechanism is heatmaps.
The process of minimizing data transfer costs should be limited. It should be assured that the computing services and object storage are reserved through different regions. It is done because the data transfer processes are freely available in many regions.
API access should be minimized through the batch object, enabling to avoid a huge level of small file data.
The auto-scaling should be used in reducing the cost amid off-hours. A strategic way should be implemented in caching storage and designing workloads for scalability. The resources should be switched off that are utilized for non-production workloads.
There is a requirement for enhancing the processes of constant visibility. It also includes the occurrence of overspending and tracking of unused assets. The essential consideration is to select the right kind of instance for every need, offering almost through different cloud service providers. It should be mainly done before deployment of the overall services.
A spectrum of advantages is achieved when Docker, Kubernetes, and other famous contained are deployed. It enables in achieving multi-cloud platforms, portability, maintainability, simplicity, and efficiency.
The serverless computing service should also be used where needed. It should be done with the help of expert IT staff and developers, enabling them to get the right configuration and management of cloud instances properly. It helps in saving huge time constraints while reducing operating expenses.
Cloud resource utilization can help in both planning and achieving cloud cost optimization. It simultaneously optimized cloud performance and enables gaining the smart selection of cloud features. It also helps in resolving and working through the above-mentioned practices. It is essential to get a partnership with the properly managed service providers that can help in contributing a substantial level of cloud cost saving.
Cloud Optimization Use Cases:
While initiating the migration journey toward the cloud, the AWS-based system involves a setup of a giant solution that supports managing and optimizing spend. The solution mainly includes the application of usage data, tracking costs, organizing resources, and utilizing AWS cost optimization tools.

AWS cost optimization support in improving the control via different access permissions and consolidating billings. Cost optimization in AWS allows a reliable plan via forecast and budgeted outcome while leading to lowered costs of cloud optimization services.

Microsoft Azure supports managing cloud spending properly. It then focuses on different matters of the firm, such as finance and resources. Azure cost optimization enables underutilizing resources with Azure-based Advisors while getting through a proper recommendation service.

Moreover, Microsoft Azure and its cost optimization process reduce spend, reconfigures cost optimization processes, and consolidates them. Finally, Azure Cost Management helps in monitoring the firm's overall cloud spending, making it doubled and resourceful for a better future.
Other Cloud Cost Optimization Best Practices:
Finding Unattached or Unused Resources:
An easy way of optimizing the cloud cost is to review the unattached or unused resources. Developers or administrators may use up temporary servers for performing different functions. They usually forget to turn off servers after the completion of jobs.

Moreover, they forget the removal of storage being attached to servers or so forth. A good cloud computing strategy starts when the identified unattached and used resources are completely removed from the server.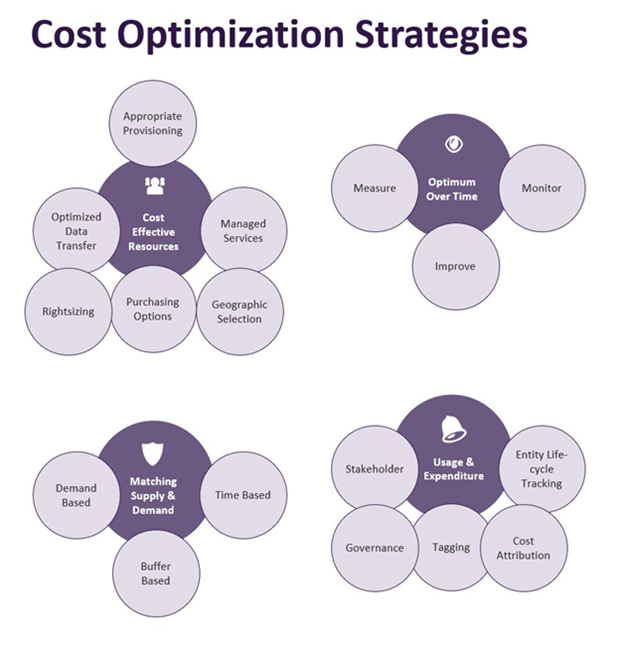 Identifying and Consolidating Idle Resources:
Identifying and consolidating idle resources is the main step in optimizing cloud computing costs. For example, idle computing usually consumes up to 1% to 5% of CPU utilization. It causes a significant waste of resources and finance.

Administrators generally operate low utilized functions, but their act of forgetting to consolidate idle resources is a big mistake. It is quite a complex process of adding newly introduced resources to the data center. They are also inefficient and expensive, leading to an impact on on-demand capabilities, load balancing, and auto-scaling. It finally ends up with more power consumption, thereby increasing the costs of cloud optimization.
Utilizing Heatmaps:
As mentioned above, cloud cost optimization gets a direct impact from heatmaps. It is a visually displayed tool that shows up the peak and valley in computing demands. This step could be valuable in creating a start-up time while reducing huge costs. It identifies whether a development server is safe enough to be shut down on weekends, leading to achieving optimized costs from the best-leveraged automation system.
Right Size Computing Services:
Right-sizing is an effective way to analyze computing services that are later modified to achieve more efficient sizing. There are different options for a server to optimize the storage capacity, graphics, computing, database, and memory. They work individually in reducing cloud costs, making it simply work with highly achieved peak performance and resources outcome.
Taking Benefit of Spot Instances:
As mentioned above, spot instances have a different aspect from return on investment. However, they can save huge resources and finance on Azure spend and AWS spend. They are truly suitable for specific computing cases, leading to accomplish jobs with the right efficiency and outcome. They can also be eliminated quickly, resulting in a more reduction of cloud cost optimization strategically.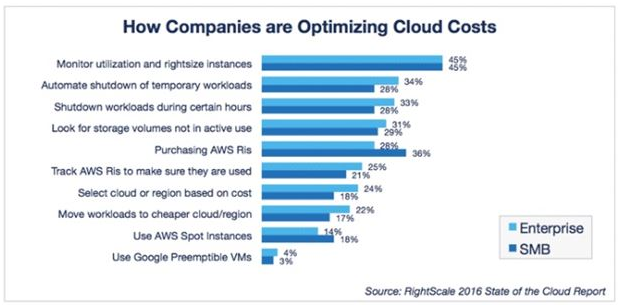 Considering Single Cloud vs. Multi-Cloud:
Few companies apply multi-cloud solutions for avoiding vendors' locked-in aspect. It is a wise strategy to increase uptime and availability, but it causes risks to lose possible volume-based discounts comparing to single-cloud vendors. For example, they can miss out to reach a $1 million tier from a vendor if they spend on Azure + $200,000 on Google Cloud Platform.

The valuable amount of the $1 million tiers could be a great discount on cloud-based spending from a single vendor. In contrast, the firm's capability of saving finance and resources could be double from the multi-cloud strategy. It is because the outweighed amount from administrative hassles can be switched between different platforms. It can finally lead to payment for multiple cloud services, training staff, and network traffics.
Importance of Cloud Cost Optimization:
Regardless of the firms' involvement in the cloud journey, cloud cost optimization has been continuously evolving at the top concerns. With firms moving more towards cloud workload and services, it has become easy to lose sight of huge pictures and related costs. The applying of cloud services provides powerfully agile situations and resource with numerous advantages.

Moreover, the cloud service provides a strategic plan of managing cloud costs while rapidly ensuring direct control over spend, money, and resources. Therefore, it is necessary to achieve optimization of costs for maximizing returns on investments (ROIs).

There is finally a possibility of reducing the total cost of ownership (TCO). Every business and their technology leaders focus more on the optimization of cloud spends to gain a leveraged cloud serviced, increased ROIs, and improved business processes and practices.