Agile methodology at Golpik is a famous and most recently applied tactic in website and software development. There is a spectrum of advantages when comparing it to the traditionally introduced development processes. The agile approach works best for every web product, making it a key benefit for all customers' types.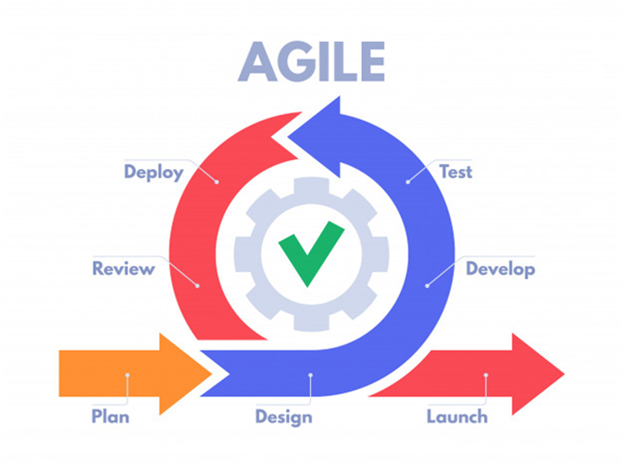 Why Agile?
The most significantly accepted and life-evolving change of Agile methodology is to adjust the basic parameters of project-based development. It brings a perfect achievement for every project's success, making it demanding for all firms' types.

With every need of business and product flexibility, Agile projects become successfully implemented in both the custom and traditional methodologies. It mostly happens when the product moves quickly in responding to every change that is conducted according to the business environment.

The right way to understand Agility is to review the preceding times of Agile projects. For example, every project was delivered with complete documentation, remarks, and requirements. It used to consume months in getting negotiation with the product's agility. There were also difficult processes for allowing implementation and software development in the business concept.

The factor of the end product is of great importance nowadays. The finally developed stage of the product necessitates both customers and developers to ensure a better strategy throughout the product recycle. If the project fails to achieve its actual goal, then it causes the wastage of labor resources, money, and time.

In few stages, the businesses realize that a strategic change is inevitably possible to reach the final limit. There arises a time of becoming adaptive and responsible to business and product agility. It finally enables in gaining a new way of developing software while working with some other strategic measures.

Similar to Golpik, now businesses are enjoying great flexibility in processes and product development. It leads to more enhanced software development and much-increased agility.

Golpik has been successfully implementing an Agile strategy in different project-based outcomes. It is a new learning concept for many businesses, driving them to adapt to the most suitable methodology in the long-run period. Both the stakeholders and team enjoy extended transparency through the Agile approach. It strategically keeps updated with the changing demands of the market while remaining Agile and flexible in due course.
Key Advantages of Agile Methodology for Businesses:
Businesses now strongly care about their product development methodology. They establish a strong team to become more Agile in reality. Different companies now apply agility in their business, product, and service. These firms include Microsoft, Barclays, Spotify, and many other world-renowned giants that apply Agile in their business process.

According to Microsoft's Principal Group Program Manager, Aaron Bjork, businesses now require much increment in their product and service to ensure delivery of fast customer service. It also includes working with customers' feedback to assure better product development and improved service orientation.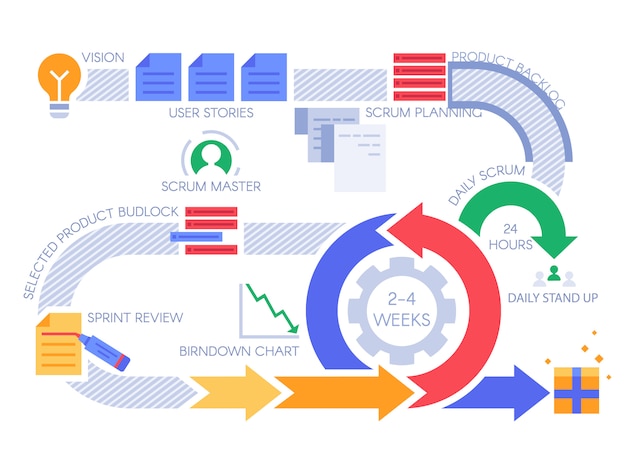 Now, let's review the advantages of getting Agile for a business's product.
Cost-efficiency:
Every firm becoming Agile getting the capability of evaluating their costs for different executed components. The business lean concept also determines that becoming Agile eliminates the wastage of many things while adapting to step-by-step processes.

This strategy helps in estimating the significance of the next feature, leading to benefit every stakeholder of the business. It subsequently reduces expenses and improves the functional capability of the business.
Time-efficiency:
Time-efficiency refers to setting a priority of determining all team members in a specific project. It helps in avoiding irrelevance, wastage, and duplication of service or efforts. Its outcome is the accomplishment of a highly developed website or product on time.
Customer-focused Product:
It is a wise strategy to remained updated with the team of developers that are readily assigned to some projects. It enables in getting what was needed and how reliably it has been achieved for the customers and related markets.

At Golpik, the project needs and discussions are continuously helping to get an enhanced way of developing products, services, and newly introduced features.
Transparency:
Every change becomes visible when coordination is intact at every stage. Every single enhancement and feature is streamlined, leaving no chance for over-costs or late timeframe. It helps in delivering an end-result while getting transparency in the overall product development.
Space for Experiments:
Becoming Agile refers to becoming more flexible with every change that is needed in the organization. It allows for more implementation of new development. Developers become capable of working through newly introduced features and functionality.

The QA team also becomes effective in testing the business environment, eliminating almost every limitation that might be hindering business processes. Several benefits are achieved afterward, clarifying that the Agile approach is much beneficial for all projects type. It finally increases the value of the business and subsequently accelerates the workflow of businesses.
Agile Concepts Executed in Golpik's Work-based Principle: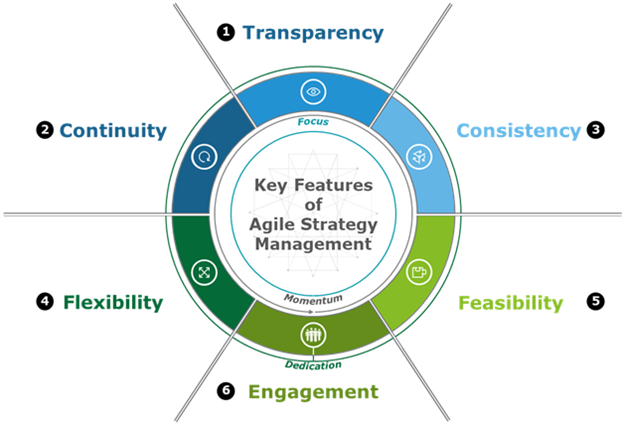 Individuals and Their Interaction on Tools and Processes:
Golpik believes that every customer should be facilitated with the right software development and service orientation. Therefore, the firm develops great amazing tools, products, and services. The team at Golpik collaborates in delivering maximum positive results for customers.

Collaboration enables Golpik to deliver the three most demanding processes. These are responsibility, effective teamwork, and clear communication. Every team member has a right to initiate some risks while innovating great ideas for the business. They also have a right to put forth their viewpoints that could help gain an enhanced project development.

The perfect work atmosphere is the basic mission of Golpik, leading every team member to ensure a relaxed and supportive feeling and participation. It directs the Golpik team to express more end-results and to remain talented at their assigned tasks.

This way of collaboration at Golpik drives its people to build more product development processes. These may include becoming the best-expert for the markets and delivering more production processes that are demanding in the markets.
Working Software on Comprehensive Documentation:
Every project involves the creation of specific documentation while working for numerous months. The people at Golpik initiates business projects seriously and utilize every aspect of their extra time in delivering incredible results and exceptional performance. They convert ideas into business projects and simultaneously leads to becoming more time-saving tools.

The team at Golpik follows a unique rule in working through the documentation process. For example, they consume 50% of the time being deployed on documentation, enabling them to align the remaining project progress successfully. Many of their customers have appreciated their product creation.

Moreover, the team works energetically in creating a focused image of the business. They develop future products with more agility while turning ideas into projects. They understand and fulfill every requirement of customers, enabling them to rule the market with more demands of service.

They change their ideas and efforts according to the changing needs of the market. They deliver a long-run forecast of products and truly create a detailed specification of business projects and their outcomes. They execute business objectives in delivering a streamlined product, thereby suggesting more effective ways of product development for their customers.
Customer Collaboration Over Contract Negotiation:
Every contract is important for a business because it leads to great value for the corporation. Every contract needs to have flexibility, similar to agility. It should leave spaces for development for forthcoming purposes.

Customer collaboration is essential because the requirement for every business change with the market demands. Customers mostly come with an initial idea, leading to change it afterward. A spectrum of iterations could occur in due courses, such as demanding MVP-based development.

The detailed and long contracts should be avoided as it could become a wastage of time and resources. The Agile methodology should be used because of its existence of numerous opportunities. It facilitates the entire development process, making the contract becoming more flexible with the market demands.

Another aspect of contract negotiation is direct communication. The customer should be given a direct way of seeing their contract work being progressive. It should also direct the customer to initiate a decision afterward, such as related to available products and changing service needs.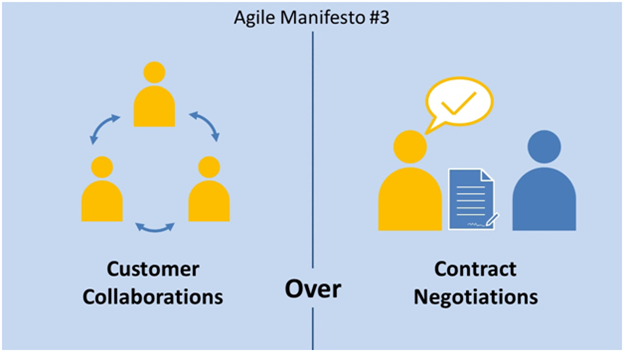 Further, there needs to be regular communication and update advice about the contracts being initiated. This can be done through the tracking system where the client gets direct access to its product or service progressive outcome.

Customer collaboration over contract negotiation then involves direct communication about the product's success. Both the company's team and customers become equally responsible for the successful outcome of the product. For example, Golpik delivers the best solution for their customers, particularly with their business-driven ideas.

The team at Golpik executes projects in line with customers, enabling them to understand and review their best product development in due course. The customer becomes entitled in analyzing the corporate tasks from multiple directions. They receive the best options about their product or service through changing market demands and evolving business needs.
Responding to Changes Over Following a Plan:
The main concept of Golpik's Agile methodology is its overall flexibility. It involves chances of changing business processes and evolving product development. Different considerations are also focused from time to time in facilitating every need of the customer. These include final project ideas, stakeholders' interaction, project budgets, and market demands.

The above fact clarifies that a change could occur at any time. Every business plan needs to be focused on unpredictable changes. The project team needs to be ready in treating such changes in the perfect manner. An example is Golpik's team that is flexible enough to carry out a project with its ultimate success regardless of the changing needs of the customer and the market.

Businesses should listen to the customers first, driving them toward their ultimate planned product achievement. The project team also should execute every task in line with the customer and changing demands. They should deliver product benefits while remaining intact with the actual customer objectives.

A leading way for a successful project outcome is to follow the plan first while updating them at a different interval. The process of planning should not be stopped until the outcome of the product. The priorities should be set forth with customers, leading them to evaluate the project tasks as and when needed. This is what Agile is all about, such as easily do the job, giving a transparent look, tracking the project progress, and completing the overall tasks.