Summary
Are you looking to get efficient applications with the advantage of a responsive user interface like a native app? In this blog we'll be diving deep into how PWAs can help you achieve this, why it is worth investing in PWAs for your business and how Golpik can help your business achieve success by developing PWAs with intuitive features.
A Progressive Web Application (PWA) is an all-in-one solution for a site or app to be delivered across all devices without the hassle of app-store distribution. The ability gap between a native app and a PWA is shrinking rapidly with PWA's now being able to integrate with native device functions, working offline and sending push notifications.  PWA is blurring the lines between web & mobile apps. It offers impressive user experience with a seamless look & feel of a smartphone app & the massive reach of the web.
Why Consider Building a PWA?
In the recent years, desktop clients have become the minority, with mobile devices getting more than half of the web's market share. However, there's a problem. While responsive sites are lovely, the engineering side of things hasn't quite caught up with the demands of mobile devices. Most teams are still building products for desktop and then trying to cram them into a phone with no regard for the limitations of the device, which hampers the user experience by pile of misguided technical decisions.
Every day millions of customers are searching for something to buy, with so many options available, if they can't find your company, they'll move on to the next. Even if you have an online presence, it is extremely important to invest in a better user experience. After all, your sales considerably depend on how you engage with your users. So, what you need is an interactive platform that makes you easily accessible to the people looking for your services and products. This is where progressive web and mobile app development comes in. It gives you a decent online presence alongside offering a customized user-experience to help boost your sales.
Benefits of Progressive Web Apps for Businesses
With PWA, the app is directly downloaded on the user's device without any need to access app libraries like Google Play Store and App Store. After downloading the app, users can access it via a desktop icon.
PWAs work anytime, anywhere without needing a web access. They even work with a poor internet connection. They support retention of a custom offline page based on saved information on the previously accessed pages by the user.
No Dependency on Platforms
They work seamlessly on any OS, browser and device. User can access the same application on different devices.  The data and settings are same on every platform, which is very beneficial for users who switch between their devices frequently.
PWAs cache and serve text, and other media content in an efficient manner, enabling them to operate like websites while significantly improving the running speed. Such smooth user experience aids in improving customer loyalty and retention.
PWAs rely on HTTPS, one of the most secure protocols in use, to provide data safety and minimize the risk of security issues. This protocol does not allow tampering or snooping with content by any third parties.  In addition, many PWAs use Web Bluetooth technology which is also a secured service that helps to protect the user and their information confidentiality entered in these platforms.
PWAs have URLs so unlike native apps, they are indexed by Google just like any other website. PWAs' fast load times encourages shoppers to stay on-site longer, in so doing your position in search rankings also improves.
Practical Use Cases of Progressive Web Design
Features such as scalability, fast installation, app-like way and offline access makes it a perfect fit for most of the B2B and B2C use cases.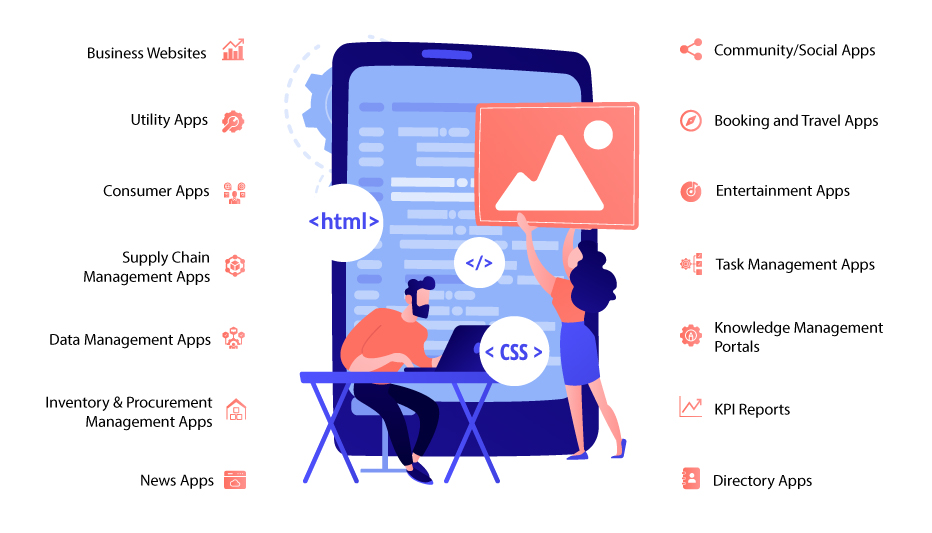 Progressive Web App Development Services with Golpik
Our team combines PHP's capability with popular languages such as HTML, JavaScript, and CSS to create feature-rich apps with flawless app-like feel and native-like experience that run seamlessly across multiple devices. Our skilled QA specialists maximize the productivity with minimal turnaround time.
Progressive Web App Development
PWAs have eliminated the need for businesses to invest in building custom solutions for each platform separately as they work on every platform or device. This gives your business the best possible coverage, regardless of the device your potential and existing customers use. From strategy creation to development and support, we provide all-crafted services for your diversified progressive web app development needs.
Choosing us as your PWA development company will enable you to stay available round-the-clock, cross-sell, upsell, & increase customer loyalty with offline browsing and push notifications.  We create lightweight and feature-rich custom mobile web apps that go above and beyond to provide immersive users' experience, security and high performance.
PWAs are designed to deliver a delightful and user-friendly eCommerce experience. It is packed with High performance backend systems, Multiple payment gateways, stellar UI/UX, Fast checkout and carting options and much more. We can help you unlock the full potential of PWAs in the most cost-effective and efficient manner with our end-to-end eCommerce development service.
Migrate your native mobile apps and websites to PWA to expand your user base to millions and billions. We will be enhancing your solution with the latest tech stack and instill your solution with better usability, speed, security, & offline functionality.
PWA Maintenance & Support
The success of the businesses today depends heavily on the continuous and smooth functioning of the mission critical applications. With our Maintenance and Support focus, make sure to take preventive measures against unexpected downtime and application failure, alongside enhancing your project features at scale. This is done by frequent updates, performance reviews, timely feedback and prompt tracking and fixing of issues.
The Bottom-line
Websites nowadays are burying old ones in DUST. Websites and apps established just two to three years ago are being trampled mercilessly by the growth of new Progressive Web and Mobile Apps. This is the right time to develop a quality PWA to take your business to the next level. It will not only grow engagement but also increase conversions through fast, reliable and engaging user experiences, so what are you waiting for?
From the above read, you can realize how a PWA development company like Golpik can help  to boost your end-user experience. Our expert team of engineers have up-to-date knowledge of the fast-paced market, and we only have one goal in mind once you work with us – to make sure your PWA is the best of all. If you're looking to get a PWA set up that will not only exceed your expectations but take your market by storm, contact us, we'd love to work with you!